How To Install Fence Panels
Materials Required
Fence Post, Fence Panels & Post Mix.
Gravel Boards (optional), Post Caps (optional), Nails or Fence Clips, Timber Cleats (Fixing Gravel Board)
Tools Required
Hammer, Spade, Spirit Level, Tape Measure, String, Watering Can or Hose Pipe, Battens and Chocks.
Preparation of the fence run;
Remove any obstructions, old fence post including concrete etc. Check every 6 feet plus post width for any issues along the run which would prevent you from digging a hole for the posts.
Install Your Fence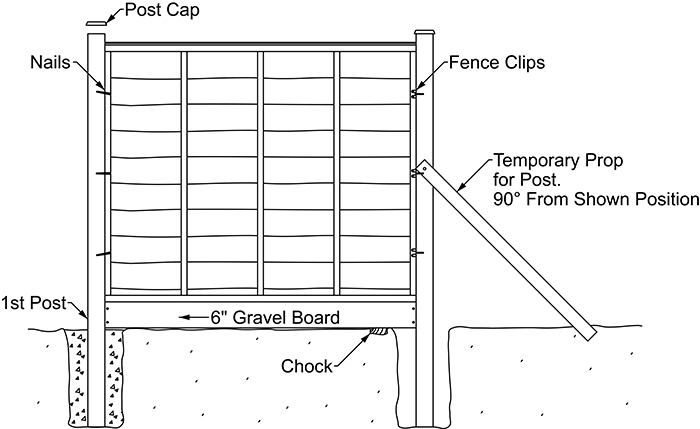 Dig the hole for the 1st post. This will normally be 600mm (2foot) deep, and the width of the spade. This allows a sufficient volume of concrete to hold the post firmly. Use a spirit level to check that the post is exactly vertical. Backfill with the concrete and any hard core that came out of the hole.
Run a line from the post to the end of the run of fence, stretching it taut. Measure along the length of the panel, and dig the next hole. Panels are normally attached between the posts, so the panel length must be measured from the edge of the posts, not the center.
Set the second post in the hole, but don't backfill it. Either get someone to hold it, or use battens temporarily nailed to prop the post in position.
Set the panel in position, checking it is the right way up and correct side facing. Chock the panel up with blocks to give sufficient room for the gravel board. Attach to the posts as recommended by the manufacturer.
Concrete the second post in position, and then repeat the procedure for the remaining length of fence. Don't erect the posts ahead of the panels, as there is no way of compensating for any slight error in measuring either the distance or if the post is plumb or not.
Attach gravel boards, post caps as necessary, our overlap panels come with capping strips as standard.
Notes:-
Mark out on each post where the ground level should be to ensure a consistent professional finish.
First mark where the top of the Fence Panel should be (a couple of inches from the top), and then where the Top of the Gravel Board should be as well as the Bottom of the Gravel Board.
The Bottom mark of the Gravel Board position is your ground level on each post. Pack under the post with hardcore if you go past your level.