At Challenge Fencing we're here to offer help & advice on all of your garden fencing & landscaping projects. We are a local business in Surrey & Kent under the same ownership since 1987, with a history dating back to the 1940s. We only sell premium quality garden fencing & landscaping products.
So whether you're planning a new garden fence or deck, updating your garden gate or need a new high-quality garden shed, our huge stock means we've always got exactly what you are looking for to finish your project & our friendly staff will help make your next garden project as easy as possible.
Everyone at Challenge Fencing is dedicated to helping you make the most of your outdoor space. Our professional advice, incredibly high-quality products, fair pricing & friendly service have earned us one of the highest ratings on Trustpilot of all our competitors.
Locate your nearest branch with our Branch Locator & discover why we are the Friendliest, Easiest & Most Modern way to buy & install a fence, deck, shed or gate.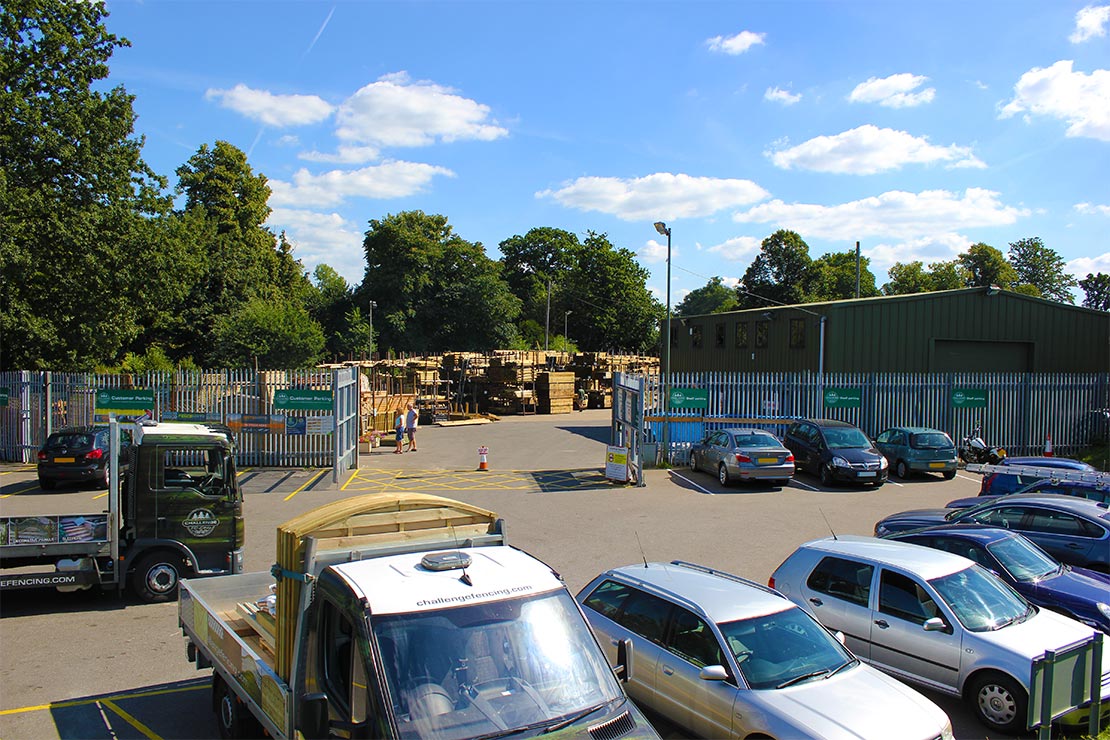 Our Commitment
Challenge Fencing is an environmentally conscious business. Our suppliers use quality-treated timber from sustainably managed forests. To add to the life of this softwood timber, the majority of our products have been pressure treated with the most effective and environmentally advanced new generation of Tanalith wood preservative, Tanalith E. This pressure impregnation treatment protects against the threat of decay and insect attack and significantly extends the life of our garden fencing & landscaping products, as well as being friendly to your garden plants.
Professional Fencing Staff
Our expertly trained sales teams are here to help you throughout the ordering process. They will gladly suggest the best products for your particular garden project & help calculate the sizes, quantities & any accessories you may need.
Importantly they will manually check every order, including online orders, just to make sure everything is correct.
Our yard teams take care to select your order from stock, matching colours where possible & ensuring only the best products are picked.
Finally, our friendly delivery teams will always try to leave your order where you would like. To read more on why sometimes this isn't possible or safe, please see our delivery information.
Garden Products Stock
We regularly hold over £ 1 million pounds worth of quality garden timber products, so we deliver the vast majority of orders straight from stock. If we don't have exactly what you've ordered, we can usually get products transferred from another branch or re-stocked within a few working days.
Our own branch workshops are also available to tailor products to your designs, such as garden gates. Please Contact Us and one of our design team will be in touch.
Happy Customers
Whether trade or retail, large or small, all our customers are equally important to us. Read what they think of our products & service on our Trustpilot page.
Challenge Fencing History
In 1944, James Impy was demobbed from the Royal Sussex regiment after the end of the war. He wanted to start up a fencing business, so he decided to call it Challenge Fencing & Builders. From the Forge in Downside Cobham, Surrey, he ran a successful fencing & construction business that covered Cobham & Leatherhead until his retirement in 1969.
In 1969 Edwin Nutbeam & his three sons took on the business and improved it into a large fencing contracting to cover London & Surrey. The company became the main contractor to five local borough councils & was renamed Challenge Fencing.
In 1987 with new investment & new ownership, Challenge Fencing became a Limited company. The sawmill at Cobham Stud was obtained to accommodate a new manufacturing and wholesale fencing yard. The company has remained under this same ownership to the present day.