M10 x 75mm Hex Head Thunderbolt
The original and bestselling all-purpose anchor
Self-tapping and suitable for concrete, stone, brick, marble, wood and block
Safe anchorage achieved without the need of high tightening forces
Can be removed and re-fixed into the same hole, providing the thread is correctly aligned
No expon forces mean close to edge fixing and reduced centre spacing distances
Uses include fixing handrails, post supports, timber battens and satellite dishes
Can be used be general builders, fencing contractors, property developers and maintenance, shop fitters, plumbers and restoration contractors

M10 x 75mm Technical Information for Installation
Drill Bit Dia. - 10mm
Max Fixture Thickness - 25mm
Min Embed Depth - 50mm
Min Over Drill Depth - 20mm
Clearance Drill Bit Dia. - 12mm
Max Tightening Torque - 60Nm
Anchor Length - 75mm
Washer Size - 12mm
Driver Type - 17 A/F
Min Hole Depth - 70mm
Thunderbolt Installation Instructions
Drill at right angles using drill bit of same diameter ensuring hole is slightly deeper than the Thunderbolt.
Remove any loose dust from the hole.
Screw in the Thunderbolt with a socket wrench. Apply slight downward pressure to stathe self-tapping action.
Tighten the Thunderbolt until the fixture is in place. If resistance is experienced whilst tightening, unscrew on turn and re-tighten, ensure not to over tighten.
For optimum performance, use a torque wrench. Do not exceed maximum tightening torque.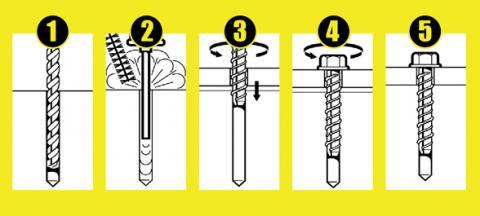 Please Note, if an impact wrench is to be used as means of installation, it must be torque controlled and the maximum tightening torque must not be exceeded.