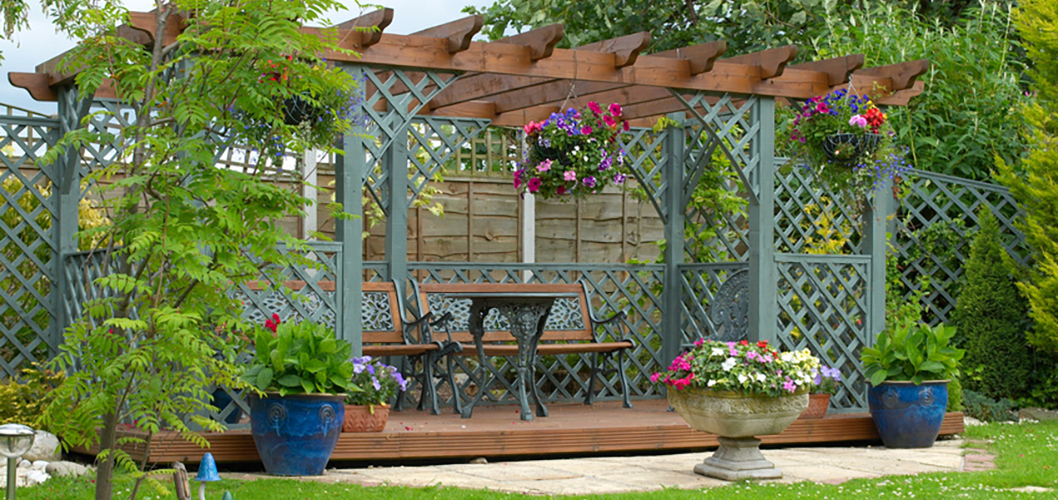 There are numerous ways the humble trellis panel can enhance your garden, and with the many different designs available here at Challenge Fencing, it's now easier than ever to create the garden you've always envisaged. Whether you're the owner of a large outdoor space or are looking to enhance a small garden, trellis panels can bring extra peace, privacy and beauty to your garden without breaking the bank. Why not have a read of our expert advice on how to make the most of your exterior and keep your garden in shipshape!
While trellis panels are often used for decorative purposes (which doesn't surprise us in the slightest!), they're also very useful too. Not only do they allow you to make use of the vertical space in your garden with attractive climbing plants (which is handy if it's only small), they can also be used to heighten your fence and obscure any unpleasant views outside of your garden that keep you from relaxing of a weekend.
Whether your garden overlooks another neighbour's back yard or simply looks out to an unsightly brick building, the addition of decorative panels to the tops of your fences is sure to obscure the fact that there was anything unattractive there in the first place, leaving you with a space you can fully unwind in come spring and summer.
Since they come in a great range of colours and designs, including square, concave, convex, diamond and lattice, you can really get creative and have fun with complimenting designs, sculptures and more in your garden. You can even combine the concave and convex panels we offer to create a beautiful wave effect the neighbours are sure to take note of! They needn't be for only the tops of your fences though, since they're fantastic for dividing and organising vegetables or herbs from the rest of your garden without blocking out that all important sunlight!
Trellis panels offer increased privacy and security for property owners who want their outdoor space to truly be their own. While climbing plants have aesthetic appeal, thorny plants can also deter thieves who might try to scale your fence. So there you have it! There are a great many uses us homeowners can try, so why not transform your garden in time for spring and summer and request a quote from Challenge Fencing today?
We provide a wide variety of trellis panels in a range of colours, shapes and styles to suit your garden and personal preferences! Why not have a browse at our collection today or get in touch with our expert team for more information. Call your local branch or email us for advice or a quote!